Indian Honorary Consulate Stuttgart

Since 2001 Andreas Lapp holds the position as Honorary Consul of the Republic of India for Baden-Wuerttemberg and Rhineland-Palatinate. In this function he is promoting the economic, political and cultural exchange between Germany and India.
For this purpose, the Indian Honorary Consulate is an important point of contact for companies and individuals, providing support and arranging contacts.
In addition, the Honorary Consulate is organizing various events like the wine festival "Stuttgart meets Mumbai", the Indian Summer, the celebrations on occasion of India's Republic Day and German-Indian Round Table. Moreover the Consulate is promoting the Indian Film Festival Stuttgart for many years.
Andreas Lapp is giving speeches about India on a regular basis and welcomes Indian delegation in Stuttgart. Besides this, the Honorary Consulate supports Indian companies while establishing a subsidiary in Baden-Wuerttemberg and provides cost-effective office space at the Indian Business Center.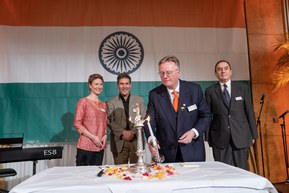 If you have any questions regarding the Indian Honorary Consulate, please contact the e-mail address info@honorarkonsul-indien.de or take a look at the Consulate's website.