LAPP and EPLAN
EPLAN Software & Service develops CAx software for electronic, fluid and EMSR technology and control cabinet engineering. Efficient workflows and process support with a focus on mechatronics is central to all developments.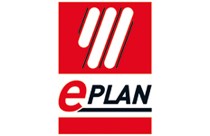 The EPLAN platform technology is capable of integrating engineering tools of other outside disciplines because of the open nature of its API interface.
EPLAN Electric P8 offers unlimited possibilities for project planning, documentation, and management of automation projects.
The modular platform provides core functions that are required in electro-CAE as well as in fluid or instrumentation & control engineering.
The latest material master data can be downloaded from our homepage and imported into your CAD software. Instead of the previous tiresome and time-consuming process of manually entering the cable type and cable designation, a search function can now be called up at the touch of a button so that cable specifications can be rapidly found. This data is stored in the plan. Once the planning is complete, the parts and order list can be selected by pressing another button.
Advantages – benefits for you:
Process optimisation during construction and planning.
Automation-friendly loading of current product information.
Option to print out exact parts lists for cables.
Naturally also designed for and compatible with EPLAN.
Saves time and therefore reduces cost.
Reduces loading and acquisition errors.
As one of the leading providers of cable, connections and cable accessories, LAPP offers you the possibility of accessing constantly updated product data in 10 languages:
Chinese
Polish
German
Portuguese
English
Russian
French
Spanish
Italian
Czech