Ethernet communication in the cable chain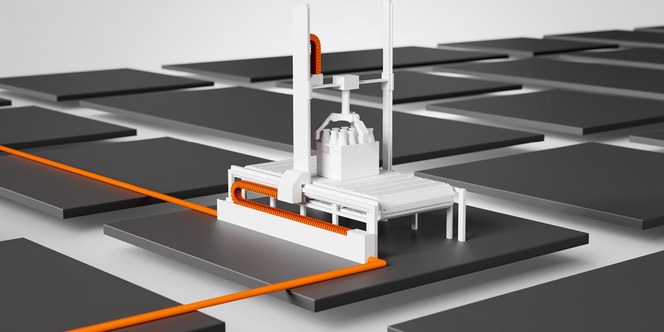 In industrial applications linear horizontal or vertical movement are often present. A typical application is that Ethernet cable is installed in a cable chain together with other cables and tubes. The cable needs to withstand frequent bending, acceleration, and physical contact with other parts in the chain.
Ethernet cable for such application is required to provide certain properties such as small bending radius, high number of bending cycles, acceleration and abrasion resistance. Due to limited space inside the cable chain EMC may be another important property. Especially for higher bit rate classes cat. 6a or higher, frequent bending may be a big challenge for the cable design.
Special requirements
The cables should be pluggable so that they can be replaced quickly and easily in the event of maintenance. EPIC® DATA flange connectors can perfectly be used for this.
Due to vibration and dirt on the machine, cable chain compatible patchcords with overmolded connectors are used to ensure a high level of sealing with protection class IP67.
Other connectors, such as the sensor/actuator cabling, also have IP67 protection class
Product Innovations
More products
For communication from machine control cabinet to machine