Ethernet communication on the robot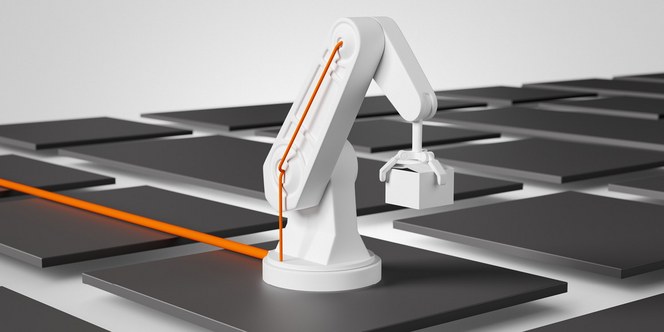 Robot applications become more and more common in modern industrial factories. Industrial robots ensure high speed, reliability, quality and competitiveness of the final product. This application has very specific requirements of Ethernet cables and cable accessories.
Ethernet cables ensure data transfer between sensors, cameras and servo motors. There is higher demand on data speed especially if the process is visually checked by high resolution and high frame rate cameras. Ethernet connection of the robot parts starts in a control cabinet. Data cables are often installed next to servo motor cables, so it is important to pay attention to EMC.
Due to various movements of Robot parts the cables may be stressed with high frequency of bending and torsion movements, combined with chemical and mechanical stress. Even under these conditions the cable must ensure reliable data connection. Even small data corruption during the movement can cause a data latency and thus the whole system failure.
LAPP's specially developed robotic Ethernet cables are ideally suited for these applications.
Special requirements
Cable harnesses (so-called Dresspacks) from the robot base to the gripper must be torsion-resistant and robust
The strings should be pluggable so that they can be replaced quickly and easily in the event of maintenance. For this purpose EPIC® DATA flange connectors can be used, which are attached to the robot base to connect the dresspack.
Connectors on the robot have protection class IP67 to ensure protection against moisture, dirt and vibration.
Product Innovations
More products
For communication from control cabinet to robot base
For communication on the moving robot arm to the remote I/O module
For communication from the remote I/O module to the sensor system (e.g. temperature sensor)