Ethernet Connectors
For assembling Ethernet cables
Ethernet connectors can be used to create detachable connections in Ethernet networks. The assembly of connectors and cables enables reliable data transmission in all industries. In the LAPP portfolio, you will find various RJ45 and M12 connector variants that support the common protocol standards on the market.
What is an Ethernet connector?
Ethernet connectors are basic components of Ethernet technology. Assembled with connectors, they are used to create and disconnect connections in Ethernet networks. An Ethernet device, such as a switch in a server cabinet, will not work without a connector, as this type of device cannot be connected via terminal blocks or the like, which makes a connector indispensable.
Incidentally, you can find out why Ethernet connectors are commonly referred to as Ethernet plugs and why this is not entirely correct under Data Connectors.
What are the differences between the Ethernet connectors from LAPP?
All LAPP products in this product group are intended for on-site assembly by the user.
Do you prefer pre-assembled Ethernet cables to save time? No problem!
Change to the Ethernet patch cables for all conventional protocol standards.
Our products for assembly differ in terms of:
their connector face and IP protection rating,
the performance class achieved ("Cat. rating", from "Category") according to DIN EN 50173 and ISO/IEC 11801,
the tools required for processing and
the choice of material.
Be aware of the following when selecting products:
the connector face standard for your specific application and
the compatibility of the connector for the cable used, i.e. cables sold by the metre.
The parameters of cable outer diameter, core diameter and cable design are essential.
Choose between:
plug or jack version,
straight or angled connector shape, as applicable,
connectors for solid or braided conductors,
connectors for control cabinet construction, harsh field conditions with IP 65/67 requirements, PCB or wall mounting.
Whether for Industrial Ethernet applications or structured building cabling:
Let us find your product!
Connector faces and conding
Ethernet networks for industrial communication are dominated by the RJ45 as a priority connector and the M12 connector as an alternative for harsh environments.
Get an overview of the corresponding connector faces and codings: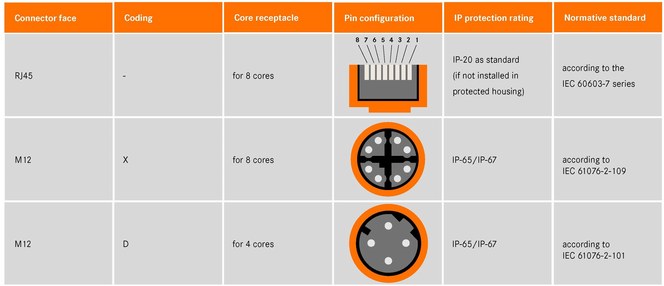 | Connector face | Coding | Pin configuration |
| --- | --- | --- |
| shape of the surfaces to be combined in a connector housing (e.g. round or square) | shaped elements on the housing (e.g. lugs or locking hooks) ensure that incorrect plug connections are avoided | arrangement and nature of the contacts in the connector |
RJ45 - one size fits all
The abbreviation "RJ" stands for "Registered Jack". There is now a wide range of RJ connectors, especially in the US telecommunications sector.
In the vast majority of data networks that rely on Ethernet and Industrial Ethernet, however, RJ45 has established itself as a universal connector. Whether for standard applications in which the cable is permanently installed or for special applications with a lot of movement or torsion - the connector guarantees reliable connections as long as it is not excessively dirty (the protection rating of IP 20 is sufficient) and is not exposed to vibrations.
RJ45 and M12 connectors for cables up to Cat.6A and Cat.8.1
If a higher protection class is to be achieved, for example because remote I/O modules are cabling in the field, either RJ45 connectors with protective housing or M12 connectors can be used.
In principle, RJ45 only meets the requirements of categories Cat.5/5e, Cat.6, Cat.6A and Cat.8.1 according to ISO/IEC 11801. Its contacts are positioned very close to each other and can mutually interfere in too high frequency ranges, which results in interference with the frequencies used for Cat.7. As a result, the frequently used RJ45 cannot meet the limit values prescribed for Cat.7 and Cat.7A and can therefore not be used for these categories.
Other connectors, so-called chamber connectors, combine the individual pairs of wires, minimising interference and can thus even meet the more stringent limit values of categories Cat.7, Cat.7A or even Cat.8.2. Typical examples of this are the TERA and GG45 connectors, which have not yet achieved any major market penetration due to their high costs and lack of compatible terminal devices.
So are RJ45 and M12X connectors unsuitable for a Cat.7 cable?
Not quite. RJ45 and M12-X-coded connectors are compatible with Cat.7, Cat.7A and Cat.8.2 cables. This means that the number of pins and cores match and assembly can certainly be made. However, it should be noted that the transmission properties of the cable are limited by these connectors and that a Cat.7 cable ultimately only works in the frequency range of a Cat.6A cable (500 MHz instead of 600 MHz). A Cat.6A cable therefore transmits the data at the same speed as a Cat.7 cable, but is less resistant to interference and damage.
Pin configuration and connection standards
When assembling connectors and cables, attention must be paid to the pin configuration according to which the device is ultimately to be connected. The EIA/TIA standards and PROFINET stipulate their own colour coding. Both connectors and jacks must be configured the same.
TIA 568-A
TIA 568-B
PROFINET
M12 X-coded
M12 D coded
RJ45
White/Green
White/Orange
Yellow
1
1
1
Green

White/Orange

Orange

White/Green

Orange

White

2

3

3

2

2

3

Blue

White/Blue

Blue

White/Blue

-

-

8

7

4

5

Orange

White/Brown

Green

White/Brown

Blue

-

4

5

4
6

7

Brown
Brown
-
6
8
For unequivocal pin and core assignment
Are you worried that a mistake may occur during pin configuration? With the intuitive LAPP core managers with colour coding either for T568A, T568B or PROFINET, the potential for errors is extremely low! You will find the desired colour coding in all RJ45 connectors from LAPP. In M12 connectors, the assignment of core to pin is also very easy thanks to colour marking of the stuffer cap.
RJ45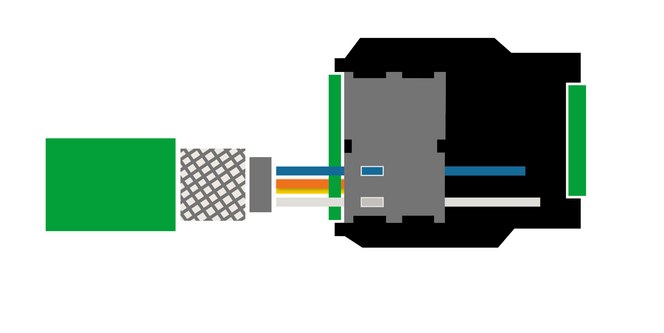 M12-D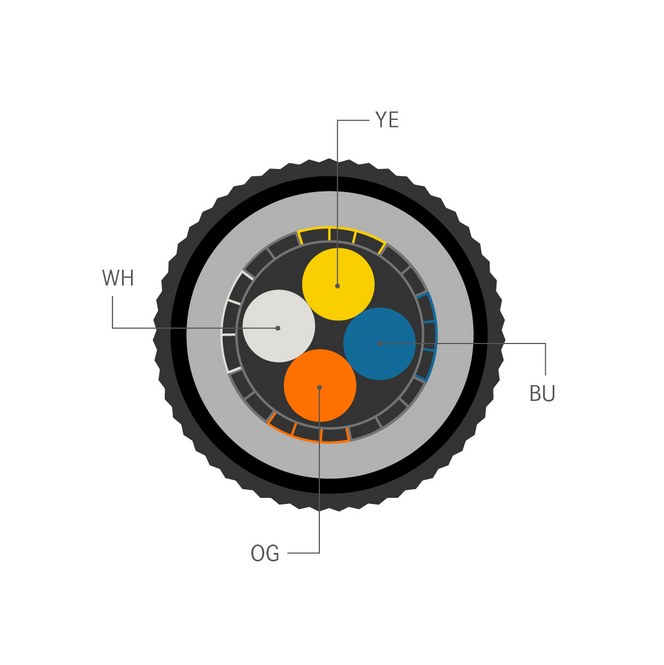 M12-X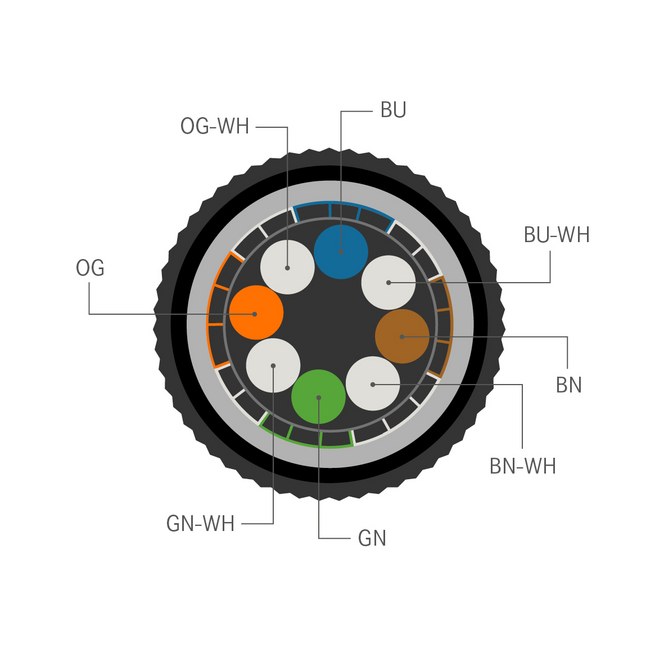 Where are Ethernet connectors required?
The answer is that every Ethernet-based application needs connectors. Wherever you use Ethernet cables, you will also use a connector.
The answer is that every Ethernet-based application needs connectors. Wherever you use Ethernet cables, you will also use a connector.
If you are also dreaming of Industry 4.0, first you need to ensure a sophisticated communication infrastructure in your corporate or production network. Ethernet connectors make a significant contribution to this.
Especially in areas where primary manufacturing processes take place, e.g. in classic mechanical and plant engineering, or in areas involving logistics, infrastructure and transport, networking systems and data exchange (often in real time) is essential.
In the classic office sector, buildings, floors and individual offices need to be connected to one another for the first time using Ethernet cables in order to enable stable, reliable data connections and to allow automation at the building services level.
Ultimately, the Internet for your private home network arrives via a cable from the building services and from there is distributed to the individual network devices and LAN sockets in the building. Only from here can you choose between wireless and wired. If you like it wired, terminal devices are normally connected using an RJ45 data connector via the laptop LAN interface. This is nothing other than an Ethernet jack with an RJ45 connector face.