A tremendous honour for an outstanding businesswoman
Ursula Ida Lapp receives the business medal of the state of Baden-Württemberg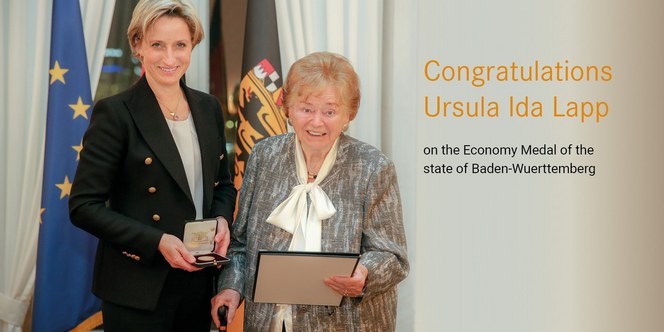 "With diligence, ambition and perseverance, you and your family have created a company of international renown over the past 58 years. You are open, interested person and you participate in the lives of your fellow human beings. Your varied and considerable social and entrepreneurial achievements are to be particularly emphasized. For this reason, it is a particular pleasure for me today to personally hand over the business medal to you."
- Economic Minister Dr. Nicole Hoffmeister-Kraut about Ursula Ida Lapp
During a ceremony at the former royal palace in Stuttgart, Baden-Württemberg economic minister Dr. Nicole Hoffmeister-Kraut awarded the state's business medal to Ursula Ida Lapp. Among the federal state's most prestigious honours, it is awarded only to people who have made an outstanding contribution to the economy of Baden-Württemberg. And this is exactly what she did: An entrepreneur through and through, Ursula Ida Lapp has made German business history. Together with her husband Oskar Lapp she founded the Lapp Group almost 60 years ago and developed the company into a global Player.
Following Oskar Lapp's death in 1987 after a long battle with a heart condition, Ursula Ida Lapp took over the leadership of the company together with her sons Siegbert and Andreas. Under her aegis, the firm continued with its expansion outside of Germany. Today, the Lapp Group is the global market leader for integrated solutions in the field of cable and connection technology. Ursula Ida Lapp played a key part in shaping the company's sustainable and responsible philosophy.
The Lapp Group and all its employees say congratulations and thank you for this great life's work!