Merkel, FutureLab and Industrial Communication: Our #hm19 review
Back from Hannover Messe 2019 we're looking back at 5 days full of VIP guests, highlights, great visitors and lots of fun.
With our highest visit we started directly on Monday: Chancellor Angela Merkel visited the LAPP booth and was thrilled by our Smart Cable Drum. We presented it as an example of how processes can be automated and accelerated through digitization. Angela Merkel didn't miss the opportunity to do something directly herself. Not only did she pull on the cable, she also reeled it up afterwards as a matter of course - that's how we praise it!
She was accompanied by Swedish Prime Minister Stefan Löfven. Since Sweden was this year's partner country of the Hanover Messe, he not only represented his country, but also enjoyed our Smart Cable Drum.

It became Royal on Tuesday: Prince Carl Philip of Sweden took a look at our futureLab and let himself be inspired by our digital innovations. After the day the stand party took place with our stand team and customers - as every year we had a great evening with Swedish delicacies and lots of music.



Beside our guests our exhibits were the big heroes on our stand – let's introduce them:
OUR futureLab: For the first time in our exhibition history, we gave an insight into the innovations our developers at LAPP are working on. Here is a brief overview of what was on display:

Station 1: Smart Cable Drum
How many meters of cable are left on the drum? In the futureLab, we showed a clever solution: the smart cable drum. A sensor determines the remaining length of the drum when the cable is unwound and sends this information to the ERP system.
Station 2: Wires for the DC age
The energy supply of the future is called direct current: Many electrical consumers, from LED lights to electric cars, actually consume direct current. In addition, more and more systems that generate direct current, above all photovoltaics, are feeding electricity into the grid. LAPP is the first company in the connectivity industry to offer cables specifically for industrial direct current applications as standard.
Station 3: Downsizing through Single Pair Ethernet
Until now, the rule for data lines in factories was: faster is better. But to connect individual sensors at the field level in the factory, Cat.6 or even Cat.7 cables are oversized. Single-pair Ethernet cables are the better alternative here. Instead of four wire pairs, they have only one, which saves up to 75% time when connecting the wires - and of course a cable with two wires also costs less than one with eight.
THE LAPP PROJECT HUB: Highest complexity - that's what distinguishes modern projects. In most cases, customer-specific solutions are required. Tailored to individual needs. In addition, the project business rarely distributes individual products, but often complete solutions. That's why we at LAPP have a whole team that takes care of the individual requirements of major projects - and, of course, at the Hanover Trade Fair, very close to the customer. Would you like to learn more about the LAPP Project Hub Team? Follow the LinkedIn Showcase Page.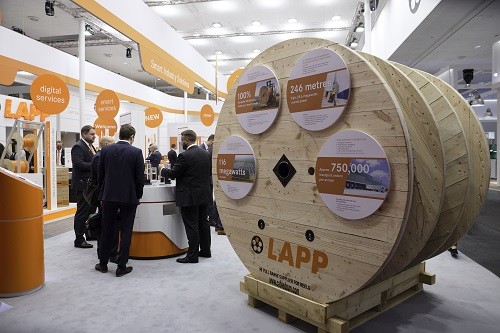 OUR DIGITAL SERVICES: Under the motto: "As simple and as digital as possible" we have developed various digital solutions for your daily work. No matter if our new customer portal MyLAPP, the barcode scanner SCAN2LAPP or our solution for an eKanban shelf, our services should relieve you in your daily business.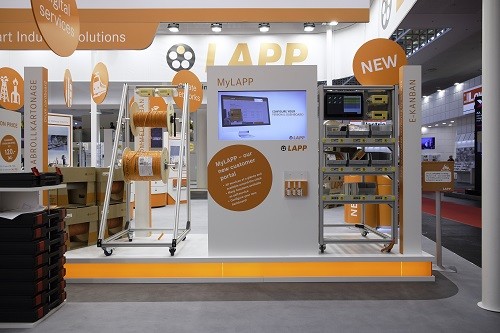 SMART FACTORY: With our smart connection solutions for data transmission, your data is transferred securely and reliably from the system to higher-level systems. Products from LAPP will help you here. From PROFINET-compliant ETHERLINE® ACCESS switches and NAT firewalls to connectors and suitable accessories such as cable bushings, protective conduits and markings.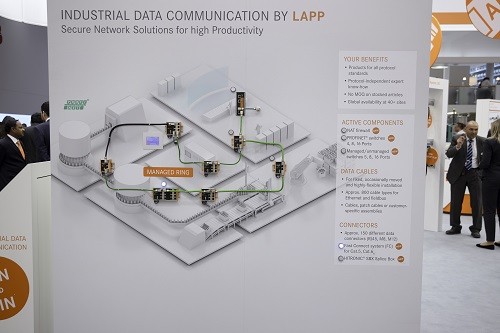 Of course, no highlight and no trade fair day would have gone so perfectly without our dedicated team of LAPP experts, who worked hard every day to offer every visitor an unforgettable experience at our stand. With a group of approx. 90 employees and 6 trainees we took part this time to make the Hannover Messe 2019 a unique event - we think we succeeded again. By the way: In addition to the Hannover Messe, we are also represented at many other trade fairs and events worldwide. All dates can be found here.



Click through the picture gallery and see what was interesting to see and experience at the LAPP booth.