LAPP acquires Swiss partner Volland
LAPP establishes its own presence in Switzerland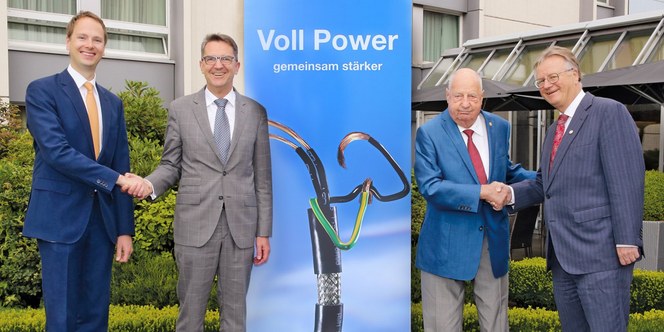 LAPP has acquired its long-term Swiss distribution partner Volland. Company founder Rudolf Volland and Managing Director Reto Volland signed the purchase agreement with Andreas Lapp and Matthias Lapp on 3 July 2018.
Andreas Lapp is very pleased: "This step is the result of a successful long-term partnership and compatible corporate philosophies. This will help LAPP to continue increasing our presence in the very innovative and demanding Swiss market and provide an even better and more seamless service for customers in Switzerland and all over the world."
Reto Volland sees major opportunities in selling his company to LAPP. As he emphatically stated: "With the power of LAPP as a global player behind us, we can offer our customers in Switzerland an even faster and better service." By incorporating Volland into the LAPP network, LAPP intends for customers to benefit from an even wider array of products, higher stock availability and faster deliveries, all with LAPP's trusted innovative capacity.
Volland AG, which is headquartered in Rümlang, has been one of LAPP's distribution partners since the company was founded in 1960, making them LAPP's first international distributor. The Swiss company is a system provider of cable technology, and currently employs 35 staff. Reto Volland, who has been Managing Director of Volland AG for 32 years, will continue to run the new LAPP company.