New service and logistics centre of Lapp Group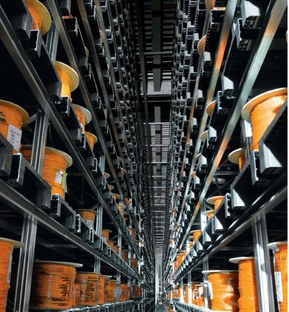 An imposing building
The Lapp Group's new service and logistics centre in Ludwigsburg (Germany) comprises three halls covering a total of 30,000 m², equating to a space greater than four football pitches. The 270 m long and 11 m high façade is punctuated by 30 ramps for loading and unloading goods to and from trucks. Construction for the centre has been carried out in accordance with the latest energy-efficiency guidelines. A photovoltaic system has been installed on the roof and per year this generates 1,000 MWh of energy and reduces annual CO2 emissions by around 650 tonnes. Compared with the previous locations, the storage capacity has increased from around 70,000 to over 90,000 cable drums with ÖLFLEX® connection and control cables and UNITRONIC® data network cables. The total investment equates to over 50 million euros – the largest single investment ever made in the history of the Lapp group.
Innovative technology
In Hall 2, there is capacity to store up to 74,000 cable drums with diameters of 400 to 800 millimetres. They are transported to the shelves fully automatically via a 700 m long conveyor belt. This is enabled by two innovations patented by Lapp:
Special grapplers known as 'mandrel grippers' move into the central hole in the cable drum, where they spread out and perform a lifting action. In one hour, a grappler gets through at least 60 drums weighing up to 400 kilos. This avoids the type of damage that sometimes arises when transporting small drums using fork-lift trucks.
A specially developed plastic system pallet enables the drums to always be accurately positioned. This makes it possible for us to automate all handling processes in our service and logistics centre, which in turn shortens processing times and increases quality.
Even the assignment of items within the storage facility itself is fully automatic, thanks to light beams and RFID technology. Storage and retrieval machines store the drums, which are positioned on system pallets, and retrieve them again when a customer order is submitted. Driverless transport systems equipped with an automated navigation device convey the cable drums to the sizing department or transport fractured drums back to the conveyor technology area. The driverless transport systems orientate themselves to the particular conditions and environment of the site with the help of a scanner, finding their way around without the need for floor markings or mirrors to assist their view.
In the standard pallet storage facility in Hall 3, there is capacity to store around 17,000 cable drums with diameters of 900 mm and greater. The automated ring storage facility in Hall 1 offers a further 11,000 storage spaces.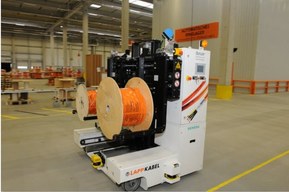 Ultra-modern, customised shipment
In Hall 1, products are cut to length, packaged and labelled according to the customer's wishes. Nearly 600 customised rings can be made ready for dispatch here every hour.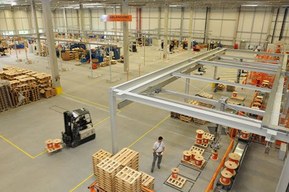 A wealth of advantages
All this innovative technology brings many advantages for you, our customer:
As we have managed to combine several storage sites, delivery times have been reduced, particularly when it comes to orders that include a number of different articles.
Now that the cable drums are concentrated in Ludwigsburg, there is room for additional services at the company headquarters in Stuttgart, where we can now also implement customisation requests. For example, we create customised cable sets and kits.
The concentration of cable drums in one area negates the need for many journeys between company sites. We estimate that this leads to 750 fewer truck journeys per year. This equates to a reduction in CO2 of around 155 tonnes per year.