The Lapp Group buys CEAM and Fender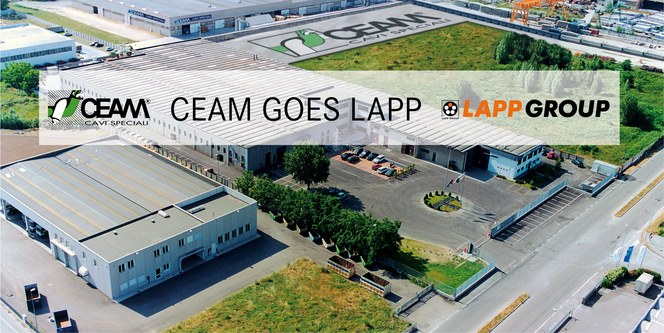 Lapp Group buys CEAM and Fender and acquires one of the leading European manufacturers of data cables for Industrial Ethernet and fieldbus network systems.
The Lapp Group buys CEAM and Fender
CEAM Cavi Speciali hires 110 employees in Monselice, Italy, and is one of the leading European manufacturers of data cables for Industrial Ethernet and fieldbus network systems. Lapp has also acquired S.C. Fender Cables, a company employing 20 members of staff in Cluj-Napoca, Romania. It specialises in cables for alarm and fire protection systems and, along with CEAM, was part of COFIMA Holding. "The acquisition of CEAM strengthens Lapp's leading role in industry-standard data communication systems," said Andreas Lapp, Chairman of the Board of Lapp Holding. "Lapp has thus attained additional expertise and manufacturing capacities, especially in the fast growing Industrial Ethernet and fieldbus systems markets." The acquisition took effect on October 13; the parties agreed not to disclose the purchase price.
Long-standing partnership
Lapp has acquired CEAM, an innovative and profitable family company. Its turnover in 2015 was €23 million; Fender generated around €3.5 million in revenue in this year. CEAM and Fender were formerly part of COFIMA Holding, a business run by founders Franco and Carlo Magon. Lapp has a long-standing partnership with CEAM. Georg Stawowy, Chief Technical Officer at Lapp Holding AG, said: "The takeover will help us to boost our successful branded products – UNITRONIC® and ETHERLINE®. This will help Lapp to become the innovation leader in cable-based data communication systems in the field of automation." Franco Magon, one of CEAM and Fender founders, emphasized that the Lapp Group and CEAM fit together well not only in terms of technology and products but also in their values: "Ethics, innovation, performance and service - these values have been guidelines for CEAM, and they have brought our small family business together with the global player Lapp." And Carlo Magon adds: "This acquisition is very good news for CEAM, for our employees and for our customers, as is creates entirely new opportunities for growth and development."
Competence centre in Monselice
Lapp will continue to run and support the production sites. The Lapp Group wants Monselice to be its competence centre for industry-standard data transfer technology with a research and development team and a test centre. One of the group's plans is to develop solutions for fast and flexible data transmission for Industry 4.0 here.