Become a new customer and win 1 of 50 fruit boxes
Fill in the entry form by 30 September 2021 and win
Summer, sun, vitamins - become a new customer at LAPP and get the chance to win 1 of 50 delicious fruit boxes. The period of registration as well as the first e-shop order must be between 01 August and 30 September 2021.


What you have to do?
1. fill in the registration form and become a new LAPP customer
2. place an order in the German e-Shop
3. fill in the German participation form
4. win a fruit box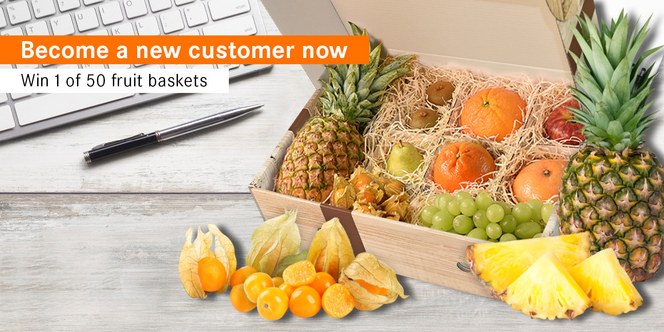 Did you know that everyone should eat five portions of fruit every day?
For example, one portion can be a handful of large, whole fruits like apples, oranges or pears, or two handfuls of small fruits like physalis or grapes. You think that's hard to do?
Then try our colleague Jana's vegan LAPP smoothie recipe. This smoothie already covers two portions of fruit. And the best part - you can win the matching fruit here as a new customer.
Fruit Box Smoothie
½ x ananas
1 x grapefruit
1 x orange
200 g grapes
100 ml coconut milk/oat milk
Have fun trying it out! #stayhealthy
Your LAPP e-Shop Team