Lead-free Cable Glands: The First Portfolio in the Market
Start thinking about tomorrow today – be well equipped for the future with lead-free connection solutions from SKINTOP®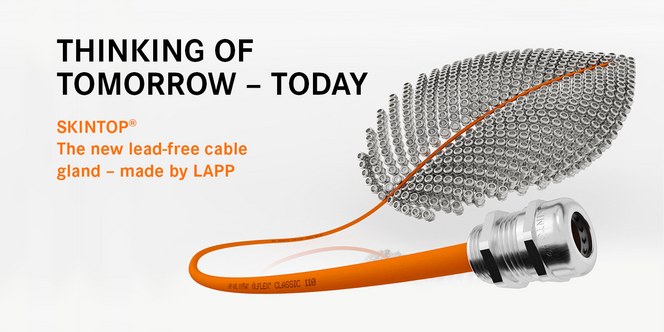 Why did we choose to introduce lead-free cable glands? We firmly believe that to be successful in the future, companies need to place their focus on sustainability. The same goes for the right choice of connection solutions for your applications and projects. At LAPP, we assist you in being ready in good time. We are developing sustainable products, even before being obliged to do so by laws and regulations. They are not a constraint but an integral part of our corporate responsibility.
We are therefore rolling out the world's first portfolio of lead-free brass cable glands: from August 2020, we will start with lead-free versions of the most common models in our tried and tested SKINTOP® and SKINDICHT® cable gland ranges. The lead-free cable glands will be marked by the letters LF at the end of the corresponding article number.
We want you to be relaxed about the introduction of new directives: By providing the right connection solutions for your demand, we ensure maximum planability of yor long-term projects.
Lead-free cable glands and lead-free locknuts from SKINTOP®


SKINTOP® MS-M: The first choice for a wide array of mechanical engineering applications, in instrumentation and control engineering and when there are high mechanical and chemical stability requirements. It boasts optimum strain relief, large clamping ranges, UL certification and a high protection rating.
SKINTOP® MS-SC-M: This EMC gland features a highly conductive, flexible EMC contact spring and a low-resistance shield contact for EMC earthing of the shielding braid.
SKINDICHT® SM-M: The perfect locknut for SKINTOP® cable glands.
All versions are available ex warehouse immediately in metric sizes M12 to M63. The acronym LF at the end of the article number indicates that a product is lead-free. We will gradually introduce further lead-free connection solutions and alternatives within other product groups too. The existing versions will continue to be available ex warehouse for the time being.
Sustainable material – same quality
The lead-free product portfolio allows you to opt for a sustainable and future-oriented product alternative that still offers the same level of performance as ever, as sustainability and quality go hand in hand for us. We have spent the past few months testing various lead-free alloys in order to identify the best material.
The cable glands made of lead-free brass deliver the same reliable LAPP quality as the existing versions in terms of their mechanical properties and corrosion resistance as well as their EMC properties. They also comply with protection class IP 68, as confirmed by numerous tests performed in our own laboratories and by external testing institutes.
New RoHS Directive
Lead-free products are already the right choice for users whose production is integrated into global value chains. This is because the new material guidelines in the European RoHS Directive (Restriction of Hazardous Substances) are expected to come into force very soon. The European Commission is currently still dealing with various applications. The end of the exemption, which was scheduled for 21 July 2021, could therefore be delayed somewhat. This also affects the use of lead in copper alloys, which is also used for the production of cable glands, for example. Up to now, an exemption applied for this, which granted a share of up to 4%. Likewise in the Regulation concerning the Registration, Evaluation, Authorisation and Restriction of Chemicals (REACH), lead is on the Candidate List of substances of very high concern (SVHC) that may be banned in the future.
Global usage
We decided to think about the future today already and support you as a forward-looking partner with sustainable connection solutions for your demands. RoHS and REACH both have their origins in Europe, but they also have a major influence on international directives such as those in the USA (California List) and China (RoHS Directive). It is especially important for global manufacturers to prepare themselves in good time, since they are depending on systems and machinery with a long service life and working with international value chains.
You have questions about the lead-free cable glands or would like to be advised? Our SKINTOP® and SKINDICHT® experts look forward to your inquiry!
Take a look at our further SKINTOP® and SKINDICHT® products in the german e-Shop