Open Catalog Interface (OCI)
Your direct connection to the LAPP e-Shop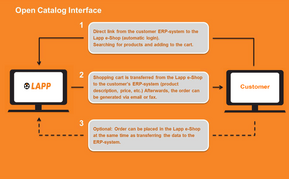 You want to use the versatile advantages of our LAPP e-Shop, but must comply with internal approval processes or collect your order or purchase requisition in the ERP system? No problem - OCI makes this possible!
Our solution to support approval processes and avoid duplication of effort associated with the acquisition of orders in the ERP system is called OCI (Open Catalog Interface). OCI opens up new opportunities for process optimization - and that in a very short time.
Open Catalog Interface (OCI) is an open and standardized interface, developed by SAP AG. It enables the transfer of catalog records / basket content from the LAPP e-Shop to your ERP system. In addition to SAP numerous other enterprise resource planning systems (ERP) support that interface.
OCI - your benefits at a glance
elimination of double counting
procurement process with approval process is made possible
direct connection between the LAPP e-Shop and your ERP system
double function: additional order triggering possible
time and cost savings through direct order initiation
dynamic acquisition of master data in your ERP system reduces expenses in the area of ​​master data maintenance
access to latest prices and availability
roll-out easily and without long project durations due to standard interface
individual adjustments possible
Are you interested in using the Open Catalog Interface?

Simply contact our e-business team and obtain advice on how to make your purchasing process even more efficient with OCI.