Fiber optics configurator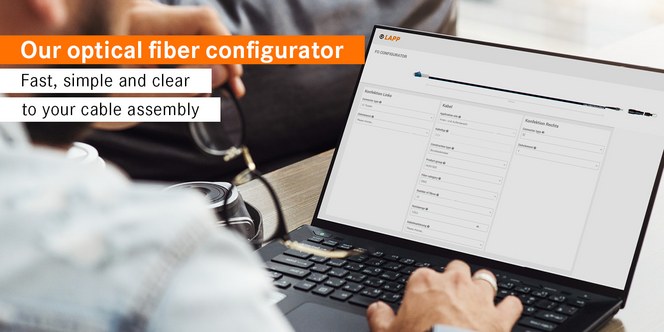 Quick, easy and clear. Inquire the right pre-assembled fiber optic cable according to your specifications.
Ever larger amounts of data and increasing demands on data transmission using advanced fiber optic installations create a strong demand for products from the fiber optic cable family. With the LAPP fiber optic configurator, you can conveniently select the right assembly from the LAPP range quickly and easily online.
At LAPP, we offer products for indoor, outdoor and universal applications. Depending on the application, you can choose from various types of fiber made of pure glass fiber, plastic fiber or mixed fiber. Our portfolio consists of optical fibers consisting of polymer optical fibers (POF, English for Polymeric Optical Fiber or Plastic Optical Fiber), polymer-coated optical fibers (PCF, English Polymer Cladded Fiber) and glass fibers (GOF, English Glass Optical Fiber) for single and multimode.
Trust in the high quality products and services
Our product portfolio offers you various fiber optic cables as fiber optic patch cables, loose tube cables, breakout cables and space-saving mini breakout cables. Depending on the cable type, you can combine your assembly with the most common connector types such as FC connectors, ST connectors, SC connectors, LC connectors, E-2000 and other connector types. To avoid fiber breakage during installation, the fiber optic cable assemblies can be supplemented with a cable pulling element on one or both sides.
Test our many years of experience and competence in the manufacture and assembly of fiber optic cables from the well-known LAPP branded products HITRONIC® HUN, HQN, HQW, HQW PLUS, Fire, Torsion, HUW, HVN, HRH, HDH and HDM. The fiber optic cables are available as singlemode cables (OS, Optical Fiber Singlemode, OS2) and multimode cables (OM, Optical Fiber Multimode, OM1, OM2, OM3 or OM4).
We are your specialized system partner for sophisticated fiber optic cables and fiber optic connection technology.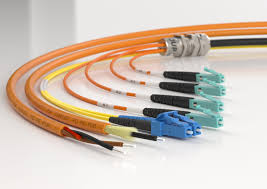 We manufacture assemblies for fiber optic cables and fiber optic cables according to your requirements.
Tools and measuring devices for assembling fiber optic cables are expensive. Threading a fiber into a connector is the most delicate work that can only be done efficiently by trained hands. A glass fiber is glued into a connector with a special adhesive. This glue is slowly cooled in an oven. This will need time. In return, the connection between the fiber and the connector is particularly reliable.
The correct assembly of the connector is then checked with an expensive electron microscope. For a few fiber optic cable assemblies per year, the tool and measuring device costs are out of proportion to the benefits. But the build-up of specialist knowledge in the assembly of fiber optic cables is also often underestimated.
At LAPP, we offer you a quick way to create your desired assembly. This saves you valuable working time and allows you to concentrate on your core business. Together we ensure that the assemblies are created according to your requirements.
Benefit from our years of experience. Every fiber optic cable assembly is carefully checked by us. We give it to you - we enclose the test report with every delivery.
Your suitable pre-assembled fiber optic cable
Configure your suitable assembly with the digital sales advisor. The selection aid supports you in putting together your assembly. Select your desired length, specification and quantity and request. You will receive your personal offer promptly.