Fiber optics configurator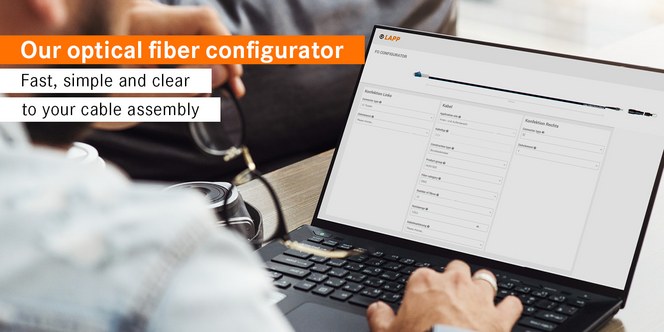 You can quickly, easily and clearly request the right fiber optic cable assembly according to your specifications.
Ever larger amounts of data and increasing demands on data transmission using advanced fiber optic installations create a strong demand for products from the fiber optic family. With the Lapp fiber optic-configurator, you can move quickly and clearly in the Lapp portfolio and select the appropriate assembly.
You will find products for various areas of application, such as indoor or outdoor or with different fiber combinations of glass fibers and plastic fibers, such as polymer optical fibers (POF), polymer clad silica fibers (POC) or glass optical fibers (GOF).
Trust in the high quality products and services in all fields
The product portfolio offers different types of cables such as simplex and duplex cables, loose tube cables, breakout cables or space-saving mini breakout cables. Combine the required transmission rate or the fiber type with the desired connectors such as FC connectors, ST connectors, SC connectors, LC connectors, E-2000 connectors and others.
Rely on our many years of expertise, from the manufacture of the packaging to delivery, and choose from our well-known HITRONIC® product groups such as HUN1500, HQN1500, HQW3000, HQW-Plus3000, Fire, TORSION, HUW1500, HVN, HRH, HDH, HDM. The fibers can be configured as singlemode cables (OS = optical fiber singlemode, OS1 and OS2) as well as multimode cables (OM = optical fiber multimode, OM1 - OM4).
We are your specialized system partner for sophisticated fiber optic and fiber optic connection technology.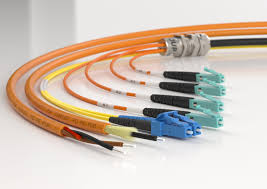 We manufacture assemblies for fiber optic cables and fiber optic cables according to your requirements.
With the delivery you will receive a test report for each assembly. With our range of fiber optic cables and connectors you can put together your very own individual assembly that exactly meets your requirements. Carefully selected components, continuous production and quality monitoring as well as a higher connection quality increase the reliability of your applications. All fiber optic assemblies are tested.
LAPP is your specialist partner, especially when purchasing an expensive assembly tool is not worthwhile or when you need to build up the necessary specialist knowledge and you can concentrate on the area in which you are outstanding good: Your core business.
Your matching cable assembly
Configure your own suitable cable assembly with this digital sales advisor with the desired length, specification and quantity and receive your personal offer promptly. The guided selection aid simplifies your selection process.